Introducing the Emblaser Core
Our new high performance diode laser cutter/engraver in a simple to assemble kit.
Why choose the Emblaser Core?
The Emblaser Core is designed for the hobbyist who is looking for an affordable  laser cutter / engraver that is simple to assemble and maintain.  It utilises the same core technology as the Emblaser 2, the electronics, optics and laser system, providing amazing performance for a solid-state based laser machine.
All parts of the machine are easily accessible, making maintenance a simple process. From lens cleaning to completely replacing the laser diode takes only minutes. Perfect for the hobbyist who wants to spend more time using their machine to make things, than tinkering with it.
Automatic Laser Height
One of the incredible features of the Emblaser Core is its software controlled laser height.
No need to fiddle around adjusting the laser height for your materials. Either use the software material library or enter your material thickness. The Emblaser Core does the rest, setting the laser to the optimal focus height.
Automatically adjust the height of the laser while cutting and engraving to gain an extra dimension of control.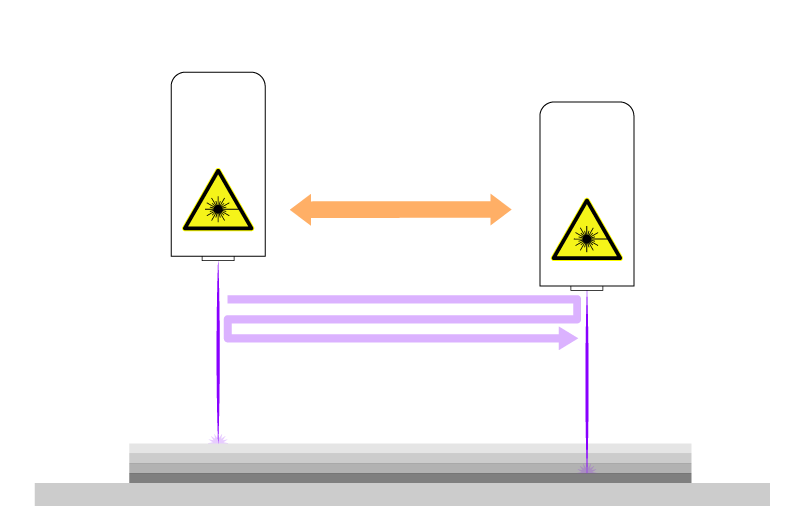 Cut through thicker materials by setting your laser to automatically lower with multiples passes. Create 3D engravings with depth or automatically adjust the sharpness of your laser to create sharp lines or soft fills. So many possibilities!
Large Workspace
Working on larger materials is now possible with a 500mm x 300mm (19.66″ x 11.81″) work area, PLUS the ability to use larger materials with the pass-thru built into the machine sides.
The maximum material height is 50mm (1.97″)
Reliability & Low Maintenance
Our solid-state laser diode gives unparalleled reliability compared to most CO2 laser systems.
No need for complicated mirror calibration and cleaning. Run the Emblaser Core continuously without the need for messy water cooling setups.
Spend more time working on your projects and less time tweaking your machine.
Simplified Assembly
The Emblaser Core is our easiest to assemble kit to date.
We pre-assemble and calibrate all the tricky parts for you, such as the Laser Unit.  Combine this with the fully illustrated Step-by-Step instructions and the Emblaser Core assembles in half the time of the original Emblaser 1.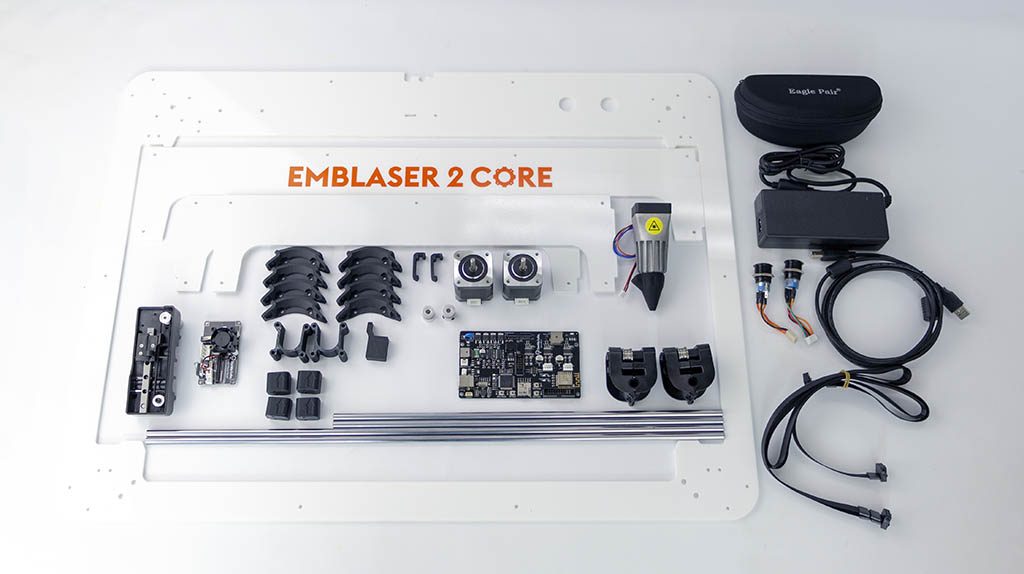 What can you make with the Emblaser Core?
Commonly Used Materials
Thickness
Engraved
Cut
Notes
Fabric - Cotton
3mm
Y
Y
Fabric - Felt
6mm
N
Y
All colors except white.
Leather - Vegetable Tanned
4mm
Y
Y
Treatment & color dependant.
Air-Assist recommended.
Paper/Card - Corrugated Cardboard
6mm
Y
Y
Paper/Card - Pasteboard
2.6mm
Y
Y
Paper/Card - Plain Paper
3mm
Y
Y
Any color.
Plastic - Acrylic Black
5mm
Y
Y
Plastic - Acrylic Green, Red Yellow
3mm
Y
Y
Plastic - Acrylic Translucent (tinted)
-
Y
N
Plastic - Acrylic Blue
-
Y
N
Plastic - Acrylic Clear & White
-
Y*
N
*Possible with coating.
Plastic - Polypropylene
3mm
Y
Y
Air-Assist recommended.
Wood - Poplar Plywood
6mm
Y
Y
Wood - Balsa
10mm
Y
Y
Wood - MDF
3mm
Y
Y
Anodised Aluminium
-
Y
N
Slate
-
Y
N
Corkboard
3.0mm
Y
Y
Air-Assist required.
Rubber
2.0mm
Y
Y
Air-Assist recommended.
LightBurn – Software thats powerful and easy
The Emblaser Core comes with  a version of LightBurn specifically designed for the Emblaser range.
Work how you want
LightBurn includes a set of drawing and editing tools to create your own artwork. No need to jump back and forward into other software, do it all in one place.
LightBurn will also import all standard formats from software such as Adobe Illustrator, Photoshop, Inkscape, Corel Draw etc.
Cut and Engrave easily
Precisely cut out your artwork or create incredible engravings from your photos.
Use the in-built material library to store and retrieve your materials presets.
LightBurn gives you full control over the Emblaser Core.
Windows, OSX & Linux
LightBurn is fully compatible with Windows, OSX and Linux.
Run it on your favourite computer or laptop, even over Wifi!
Accessories to make your Emblaser Core fly!
Take your Emblaser Core to the next level with these easily installed accessories.
Air-Assist
Creates amazingly clean cuts by injecting a stream of high pressure air into the cutting region. Air-Assist also provides an added level of safety by helping extinguish material flare-ups.
Here is difference air-assist can make on various materials. The left cut is without air-assist running.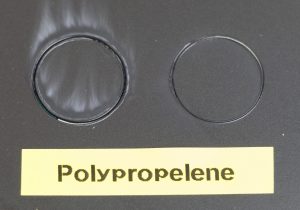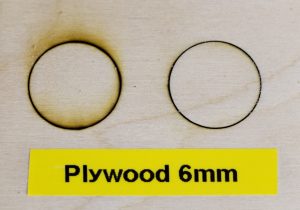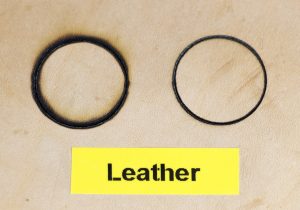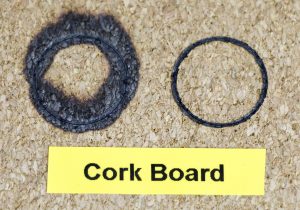 Workspace Camera
Simplify material alignment with the workspace displayed directly within LightBurn or use the Scan & Trace feature to import your designs directly from artwork.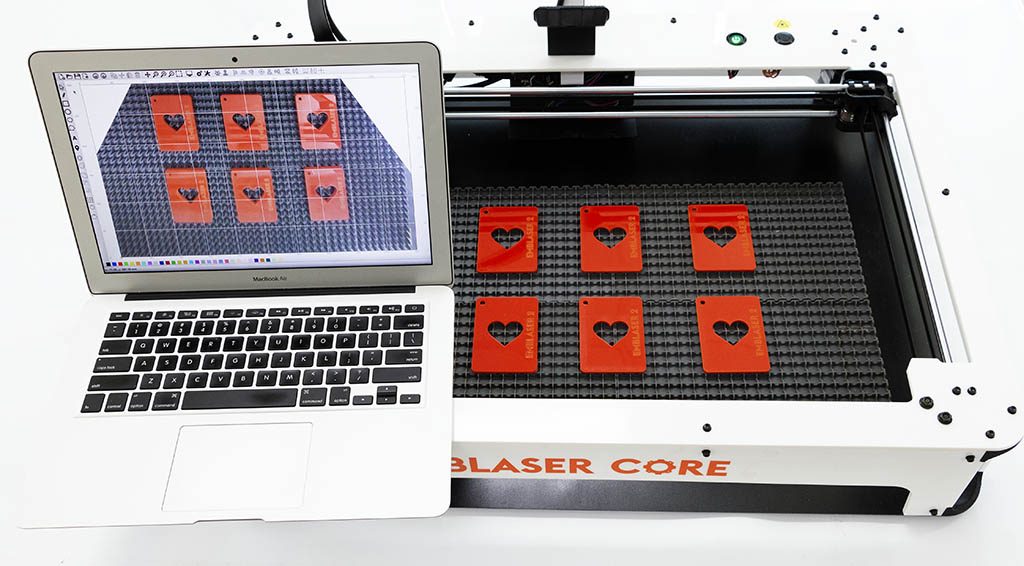 More accessories to come
The Emblaser Core is designed for continued development.
Stay tuned for new accessories from both Darkly Labs and the Emblaser community.
What are the differences between the E2 and ECore?
Emblaser 2
Fully assembled and tested machine.
Class 1 laser safety rated device.
No need for protective eye-wear.
Full enclosure with safety lid interlocks.
Air-Assist & Workspace Camera included.
Limited material size in workspace.
Built-in safety features.
Emblaser Core
Supplied as a kit and needs assembly.
Class 4 laser safety rated device.
Protective eye-wear needed.
Open frame design without lid or safety interlocks.
Air-Assist & Workspace Camera sold separately.
Pass-thru in sides allows for larger material pieces.
Lower cost.
Technical Specifications
Emblaser Core - Basic Kit
Dimensions
External Dimensions
720mm x 530mm x 230mm
(28.35" x 20.86" x 9.0")
Maximum vertical clearance needed: 360mm (14.2")
Material Capacity
500mm x 300mm x 50mm
(19.66" x 11.81"x 1.97")
Optics
Focus
Factory pre-focused
Laser Unit Type
Solid-State Diode.
5 watts, 445nM.
Equivalent to 15-20watt CO2 laser
Classification
Class 4
Requires safety eye-wear and attention to safety
Hardware
Automatic laser height.
Software controlled.
Wifi & USB Connectivity
Accessories
Workspace Camera
Air-Assist System
Silicone Cutting Mats
Watch an ECore being assembled